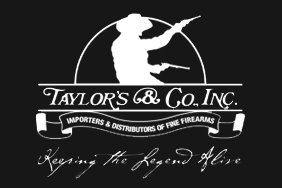 Dominion Hobby carries a selection of the Taylor's & Co. Black Powder Conversion Cylinders

---
Taylor's & Co. has been a leading supplier to the Cowboy Action Shooting sport for over 20 years, and the black powder conversion cylinder is one of their most popular accessories. These cylinders allow the use of cleaner and more convenient centerfire ammo (mild "cowboy" loads) in your steel-framed black powder revolver. They are designed as a drop-in replacement for your gun's original cylinder, allowing for quick and easy switching between black powder and centerfire ammo.
---

About Taylor's & Co. conversion cylinders:
These 6-shot cylinders allow you to switch back and forth from black powder to centerfire by changing the cylinder. The cylinder and top-plate fit together without screws or threads, so reloading is simple: pull the cylinder pin, drop the cylinder, and lift off the top-plate with your fingers. No frame modification is needed, although in some cases minor fitting of the cylinder may be required due to gun manufacturer variations. Only certified, 4150 arsenal-grade steel is used in the production of these cylinders and top-plates.
With these cylinders, a .36 or .44 black powder revolver can use .38 SP or .45 LC centerfire ammo, respectively. Use only cowboy ammunition that does not exceed 850 FPS – never hot or jacketed ammunition – and the cylinders should only be used in steel-frame revolvers. Cylinders are shipped with an instruction sheet and a free storage pouch (while supplies last).
Note: Use of these cylinders may be restricted in some areas. Before ordering, see important information under "Disclaimers" in our Terms & Conditions.

Innovative design:
The innovative design of these 6-round conversion cylinders provides a firing pin for each chamber in the cylinder cap/top-plate itself, thus allowing for the use of centerfire ammo in black powder revolvers.