Dominion Hobby is pleased to offer a select assortment of the
world-renowned Randall Made Knives

---
If you've heard of Randall Made Knives, then no introduction is necessary. If not, know that they are arguably the finest knives you can buy. Since 1938, the Randall family and their small team of highly skilled craftsman have been making knives using centuries-old methods. Starting with a block of carbon tool steel stock, the blade is hand-forged by hammer and anvil, then shaped, beveled, and sharpened. The hilt is cut and shaped, then the handle is added in a multi-step process. Finally, the blade is sharpened and polished – all by hand. The result is a thing of beauty and purpose that can be used for a lifetime and admired for generations.
---

Knives in stock:
All knives are brand new, never used or sharpened. They are unwrapped for the photographs, then put back in the original Randall packing paper until sold. The knife's description lists the custom features included and all photos are of the actual knife you are purchasing. Knives are shipped via USPS Priority Mail, insurance included, and require signature confirmation.

Randall sheath models:
All Randall knives come with one of the hand-crafted sheaths below. They are made of the finest oil-tanned saddle leather with heavy 3-ply stitching and are shaped to fit each individual knife. Available in brown (standard) or black (additional charge). Each comes with a small hone; Models A, C, and F have a hone pocket stitched to the front of the sheath. Model C comes with tie-down thongs.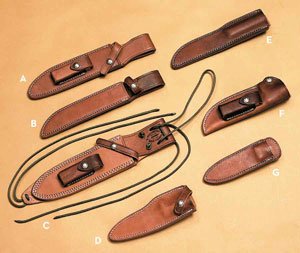 Randall knife construction:

The picture below shows the basic steps in hand-producing a finished Randall knife from a block of carbon steel.